The 3 Rs: Renew, Reset and Relax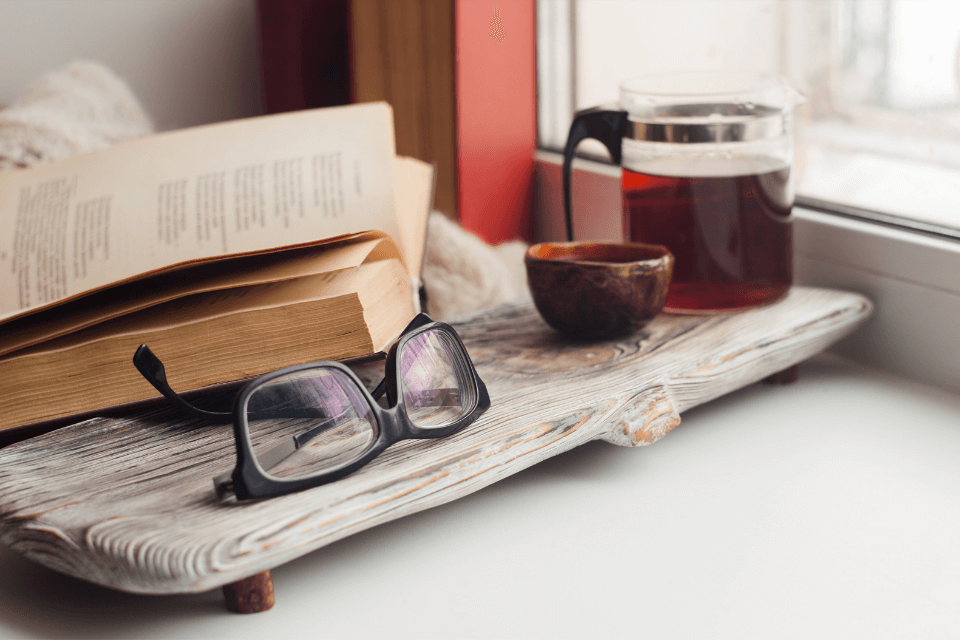 2021… is it us or does it feel like we have been thrown into the deep end?! With a new fast-paced lockdown to start a fresh new year, how can we keep our balance and calm? It will be different for everyone with broad challenges and alternate circumstances, however what we all have in common is that there will be many weeks ahead spanning out…once again…. with another period of uncertainty and varying levels of anxiety. So how can we all cope with this? New Year is often a time for resolutions, which are often too far reached to realistically keep for the next 360 days or so and therefore are pushed to one side. Rather than a grand change, perhaps the solution is a smaller, daily change, which is actually achievable and could create a drip feed of positivity on a daily basis – a real chance to renew, reset and relax.
The power of reading
Learning to read is a part of our basic education as a child and whilst many enjoy reading avidly as an adolescent or adult, for many a book can lay untouched for weeks or even months as we turn to TV, technology, Netflix, podcasts, social media etc. to quickly fill a void and provide us with instant entertainment – especially in these tricky times and with darker days and longer nights.
The key to enjoying a good book is not just about finding the right time and space to enjoy it, but also choosing the right book for your mood and need. In this current climate, you may not have the concentration for your normal thriller or autobiography, so try something different like a fantasy or even short stories. Find whatever meets your concentration span (which is different for everyone) and also truly takes you away somewhere else in your mind for a while, escapism is good for the mind and the soul.
What are we reading?
So, we asked the key members of our Camellia's Tea House team what are they reading at the moment, when do they read and what do they drink whilst reading?
Here's our recommendations!
Ajit – Co-Founder of Camellia's Tea House
"I try to always make time to read, even though life is busy with a business to run and a young family. At the moment I am reading The Cosmic Landscape, by Leonard Susskind. It's a fantastic delve into quantum mechanics and string theory, which I am enjoying hugely as I wonder a great deal about what lies at the heart of nature and matter. I am drinking our delicious Cholesterol Cleanser tea to help me get back into my skinny jeans!"
Lubna – Co-Founder of Camellia's Tea House
"With thanks to COVID, I have been able to reconnect to my inner self for mental well-being and explore a creative journey to cooking with my new Ottolenghi Simple cookbook. My favourite recipe "Burrata with chargrilled grapes, fennel and basil" inspires me to create a ritual around Pu Erh tea. I love the deep, bold, earthy notes it brings to my cup. With every mouthful of heavenly cheese, I feel less guilty for consuming the calories, as I know my cup of ebony liquid will metabolize the fat as quickly as it can."
Amanda – Business Development Manager
"I love a good book and always have 2 or 3 on the go so I can choose which one according to my mood. At the moment, when I need daily inspiration, I turn to Bear Grylls autobiography – "Mud, Sweat and Tears" – I admire both his endless tenacity and spiritual faith. I usually find time to read in the middle of the day, this gives me a break and some motivation, married with a cup of Green Mint, a refreshing and cleansing tea for a daytime pick me up!"
Ash – Production Manager
"Books have always been my favourite form of escape and a trusty companion on daily commutes. I'm currently reading "Cloud Atlas" by David Mitchell, a fantastical journey through time and a myriad of very interesting characters. The prose is absolutely delightful. In terms of tea, I'm currently drinking our spiced Far East tea to keep me warm, but I do add a cheeky dash of honey and lemon juice, both for the great taste and for the health benefits."
Lea – Website Manager
"One positive thing about this last year is that I have reconnected with reading – having the time to truly immerse myself into the narrative of great writers. For several days now, I've been reading "Glory" by Elizabeth Wetmore, a journey into different women's lives in 70's Texas. And because those are tough but beautiful stories, and because it is winter, I like to drink a cup of Smokey Earl Grey or Lapsang Souchong, for their strong but comforting flavour."
Ola – Tea House Manager
"I absolutely love reading cooking/ baking books for inspiration and creativity. My current favourite read is "Nadiya Bakes" which I tend to read on the weekends with a cup of Lemon Green Tea. Her recipes are delightful and exciting. I usually try out one recipe a month whilst putting my own little twist on them."
Mai – Social Media Executive
"Sometimes, I dream of being a tree, I know my dream is quite childish, but I love trees and nature so much. "How to Be More Tree: Essential Life Lessons for Perennial Happiness" is my most favourite book recently, written by Liz Marvin. Each page is a short story about a tree, which not only gives readers useful scientific information about several plants, but is also inspiring. If you are looking for a book with short, meaningful, well-presented and beautiful content to read, this book would adapt all of the these requirements. The tea, I choose to enjoy when reading this book, is Mango Black Tea. This tea is a blend of the signature mild spiciness of Sri Lanka's Ceylon black tea and carefully selected Chinese black tea, adding to the sweetness of the mango, the beautifully yellow pieces of the sunflower. The amber tea color will stimulate your senses and provide a refreshing tea-tasting experience. Suitable to enjoy in the morning or noon, with pastries or scones. Sip some tea and enjoy reading time with us!"
Happy reading and please share what your latest book find is… Oh and a Happy New Year!