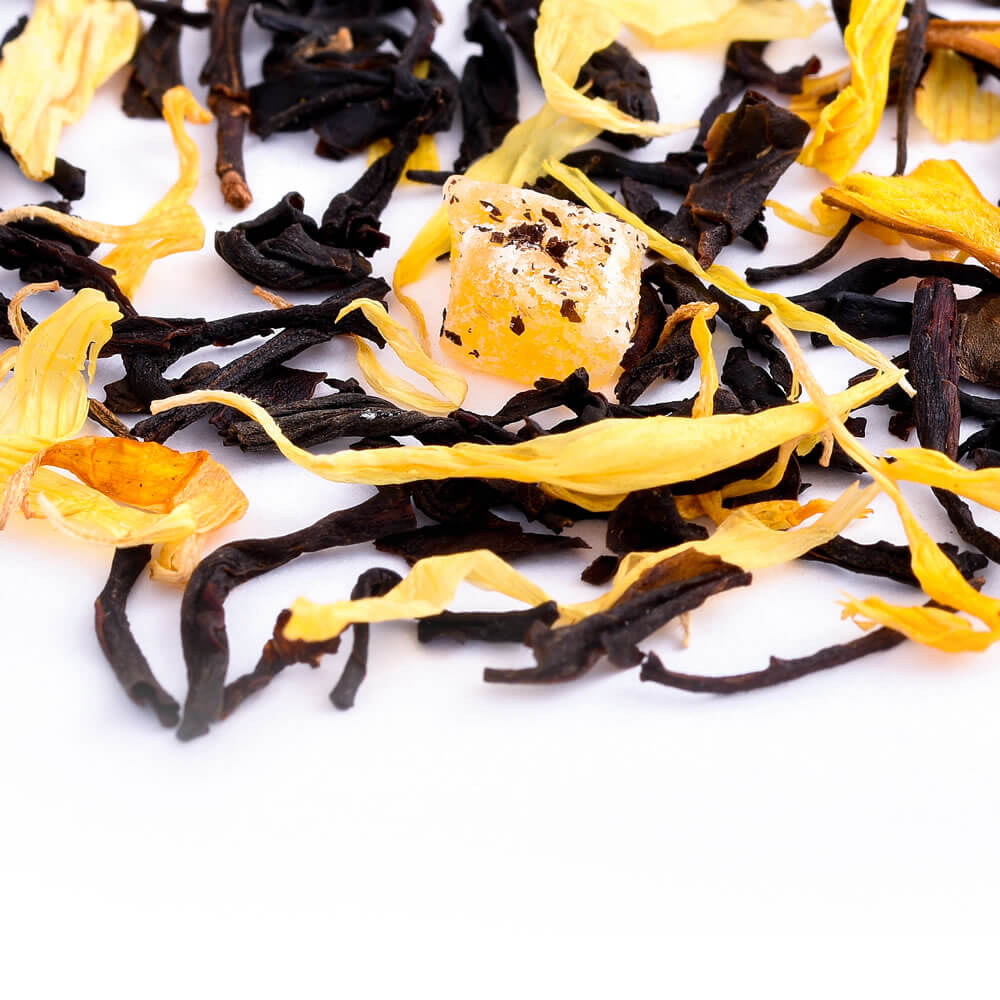 MANGO BLACK TEA
With mango season in full swing, it only makes sense to pay tribute to our Indian roots and choose our black mango tea as one of our teas of the month. The bright yellow pulp, protected by a thick waxy skin, dark green with a rosy blush, is synonymous with summer desserts. Our black tea, which is scattered with sunflower blossoms, will bring this sunshine into your tea break, along with a little caffeine boost.
Whilst lovely as a hot brew, we're really enjoying this tea blend as a cold brew drink at the moment. Given the recent heat wave, it made sense to us to develop a range of cold drinks, and this has proven to be one of the most popular choices with customers in the shop! Cold brewing means it tastes naturally smooth and sweet, so there is no need to add sugar, like you usually would with an iced tea. Without getting too scientific, this is because cold water extracts a different chemical balance from the tea than hot water, resulting in less of that black tea bitterness.
Cold brewing is something you can easily try at home. All you need is a large bottle, a few scoops of tea, and a space in the fridge! We usually brew ours overnight, but it needs a minimum of 4-6 hours. The sunflower petals and mango cubes make this a really pretty blend to have brewing.
HAPPINESS INFUSION
Our happiness infusion has this name for a reason! A cheerful blend of lemon verbena, rose buds, fennel and rosehips, this is an uplifting infusion which helps to clear the senses and revitalise the spirit. Winner of a Great Taste Award, this blend harks back to the age of foraging and preserving plants and herbs for medicinal purposes.
Lemon verbena has a number of health benefits, primarily decreasing inflammation, thereby protecting muscles and boosting the immune system. It can also clear up congestion and reduce fevers. When paired with rosehip, a seed famous for its high vitamin C content, it is great for preventing and treating colds and flus. The delicate rose buds add a gentle floral flavour, as well as some colour.
As this is a wellness infusion it won't over brew like a regular tea would. We usually recommend leaving for around 5 minutes before enjoying. If you leave the tea for longer however, you will notice that the brew, initially a light green, will darken to a russet red as the rose hips come into play and it will taste more tangy. This is a truly versatile tea as it can adapt to different taste preferences, without getting bitter.