Wellness Tea To Warm You Up On A Cold Day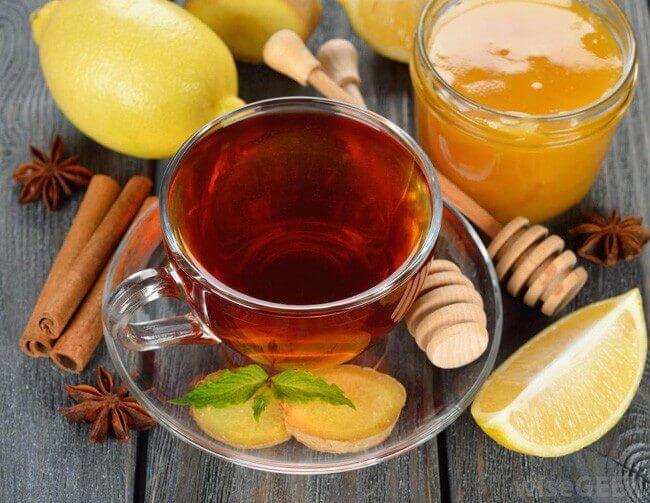 Drinking wellness tea to warm you up on a cold day.
Autumn may have officially started several weeks ago, however it is not until October that we really we start thinking about the cold weather and forthcoming Winter! The change in seasons brings us much cooler temperatures, more damp days and higher quantities of rain, as well as much darker and shorter days.
Hydration has been known as a key to wellness and health in any season, especially in the colder weather. Drinking tea can help you stay hydrated, as well as keeping you warm.
In this October, our tea recommendations are wellness teas designed by Camellia's Tea House using homoeopathic and herbal medicine principles. Not only help keep your body hydrated and make you feel better, the benefit of drinking wellness tea to warm you up on a cold day.
Key ingredients and associated health benefits in our wellness teas that are good for keeping warm, boosting your circulation and keeping you healthier in the colder temperatures:
– Ginger: has been used for millennia to spice food and treat ailments. Ginger root is extremely beneficial for health as it contains high levels of Vitamin C, magnesium and other minerals. In the colder temperatures, you may consume less healthy foods, which can cause that can cause some digestive problems. Therefore, drinking tea with the ginger element – 2 to 3 cups daily, especially before meals – will be helpful in improving digestion and increasing absorption of food. Moreover, ginger tea is recognised as a diaphoretic tea, which can help relieve congestion associated with the common cold – because it will warm you from the inside and also promote perspiration.
– Cinnamon: is a popular spice that contains desirable and powerful medicinal properties. The antioxidants in cinnamon have an anti-inflammatory effect, which may help reduce your risk of diseases such as a stroke or heart attack. In traditional Ayurvedic medicine, cinnamon bark oil is indicated as the active ingredient for treating flatulence and helping alleviate digestive imbalance. It is believed that the warmth of cinnamon increases blood flow and improves blood oxygen levels to help fight off illness. Many researchers have stated that cinnamon is one of the spices richest in antioxidants and therefore drinking tea with cinnamon as an ingredient may increase your body's ability to fight off free radicals, keeping you healthy and protecting you from the disease.
– Clove: is a nutritious spice element, that is low in calories and also provides some levels of fibre, manganese, vitamin K and vitamin C. Due to containing several important vitamins and minerals, cloves are rich in antioxidants, including eugenol and vitamin C, both of which can help decrease oxidative stress and help protect the liver. Drinking tea with a clove element will bring you warmth during cold weather, as well as help to regulate the blood sugar.
Our Recommendation: wellness tea to warm you up on a cold day.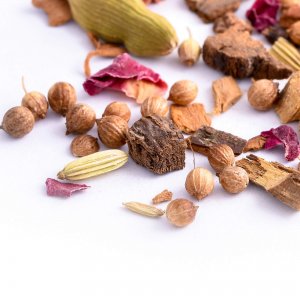 This blend has been designed along Ayurvedic principles and is a soothing infusion which has a lovely warming effect on the body. The infusion develops a well-balanced tea with hints of sweetness and flowers. You should avoid this tea if you suffer with high blood pressure or are pregnant.
Taste: A complex infusion of spices combined with sweetness from liqourice root and rounded off with floral notes of rose petals.
Aroma: Sweet and spicy aromas with with a flowery accent.
Infusion: A shimmering yellow infusion.
A touch of the South East – this is an Indian black tea that has been infused with a range of traditional spices to produce a deliciously spicy and warming brew. It is often brewed in hot milk, known as Chai Latte, to produce a healthy and much more interesting alternative to coffee.
Taste: A wonderfully balanced plethora of indian spices with predominantly cinnamon and clove taste and a spicy ginger finish.
Aroma: Reminiscent of an Indian or Moroccan spice market.
Infusion: Dark walnut coloured infusion that can take milk.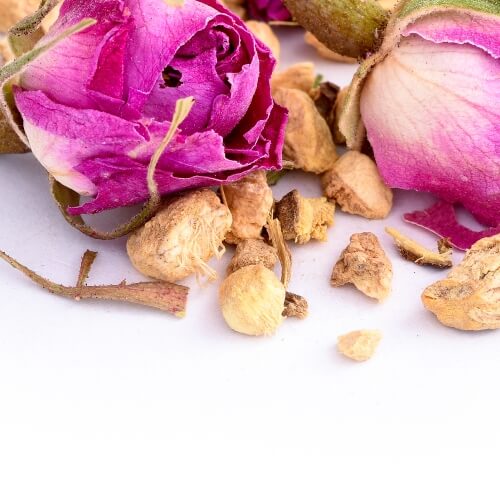 A playful and radiant blend of whole rose buds with elements of ginger and soft liquorice that create a wonderful herbal infusion leaving a warming and floral sweetness in your mouth. The rose buds provide a youthful sweetness to the soft liquor of the cup which dance above the warmth of the ginger whilst allowing the spiciness of the liquorice to linger in the mouth. This bright amber infusion will awaken your senses and rejuvenate the body!
Taste: The rose buds provide a youthful sweetness to the soft liquor of the cup that dances above the warmth of the ginger whilst allowing the spiciness of the liquorice to linger in the mouth.
Aroma: Sweet floral rose buds laced with hints of ginger spice.
Infusion: A light amber infusion.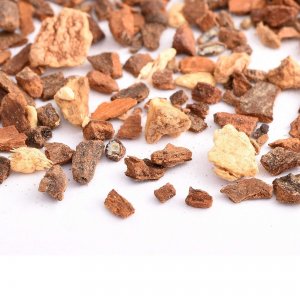 A delicious all round tea which enhances ones vitality and good health. It contains a number of ingredients including cardamom and cloves. You should avoid this infusion during pregnancy.
Taste: Medium bodied with mouthfeel flavours of warm spices naturally sweetened by liqourice and cardamoms
Aroma: A full array of spices interspered with delicate smoky notes
Infusion: A bright amber infusion
This is a delicate and refreshing herbal tea which is believed to benefit the digestive system, but also to have a general soothing and calming effect on the body. It contains lemongrass, lemon peel and ginger and is marked by a tangy aroma and an invigorating lemon flavour with a spicy finish.
Taste: A tantalising and refreshing medium bodied cup of juicy lemons interlaced with a warm and spicy bite of ginger.
Aroma: Clean and spicy with a heady aroma of lemongrass.
Infusion: An attractive pale yellow cup.