Our Tea House is an ode to tea culture with over 70 different types of tea, including our very own handmade tea blends, served in a beautiful tea ware from around the world. Working with master bakers, chefs and tea sommeliers, we have created a sumptuous range of tea infused foods, pastries and cakes as well as classic Afternoon Tea Menus and handmade Cream Teas. Set opposite the British Museum, Camellia's Tea House is a delightful way to experience British culture and the wonderful world of tea.
BORN OUT OF A LOVE AND PASSION FOR TEA
We design and hand-make most of our tea, herbal infusions and wellness blends here in London, and with over one hundred to choose from, we know there will be at least one that is perfect for you! We are truly passionate about the tea experience and want you to share in our enjoyment during your visit, so we have worked hard to create a space that is as relaxing as it is educational, as quirky as it is tranquil. A family business, this is, quite literally, our home away from home, and we want to make you as welcome as possible.
TEAS AND TEA CULTURE
We love people to ask questions. We know a lot about tea and tea culture, and encourage our customers to make informed tea choices. By interacting with our teas, opening the jars, breathing in their incredible aromas, and learning a little about the ingredients, a tea can become that little bit more personal, that little bit more special. With so many teas, we know it can be a little overwhelming, and we are happy to recommend. The staff all have their favourites!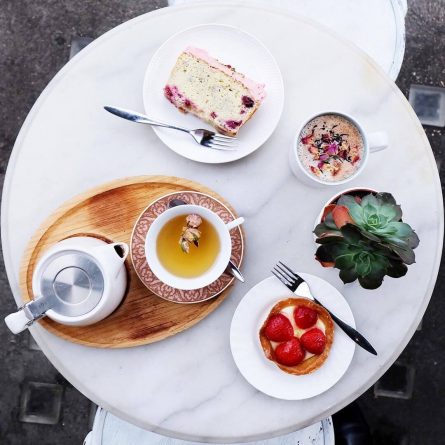 HANDMADE CAKES AND ARTISAN FOOD
We have a different blend at our tea station each day, and encourage you to take a little sip from our daily brew and a little nibble of our cake sample so that you can create the perfect tea and cake pairing. As well as the traditional afternoon tea and cream tea menus, copies of which can be found below, we have a wonderful collection of cakes and tarts to choose from. Locally sourced and freshly baked, they provide the perfect accompaniment to our tea. Many of them are actually infused with our own teas, making them that extra bit special! We also have a lunch menu available, filled with a range of freshly made foods. We do our best to cater for different allergy requirements, so don't be afraid to ask, as we will do our best to accommodate you.