Smoky Earl Grey, Chocolate Energy Balls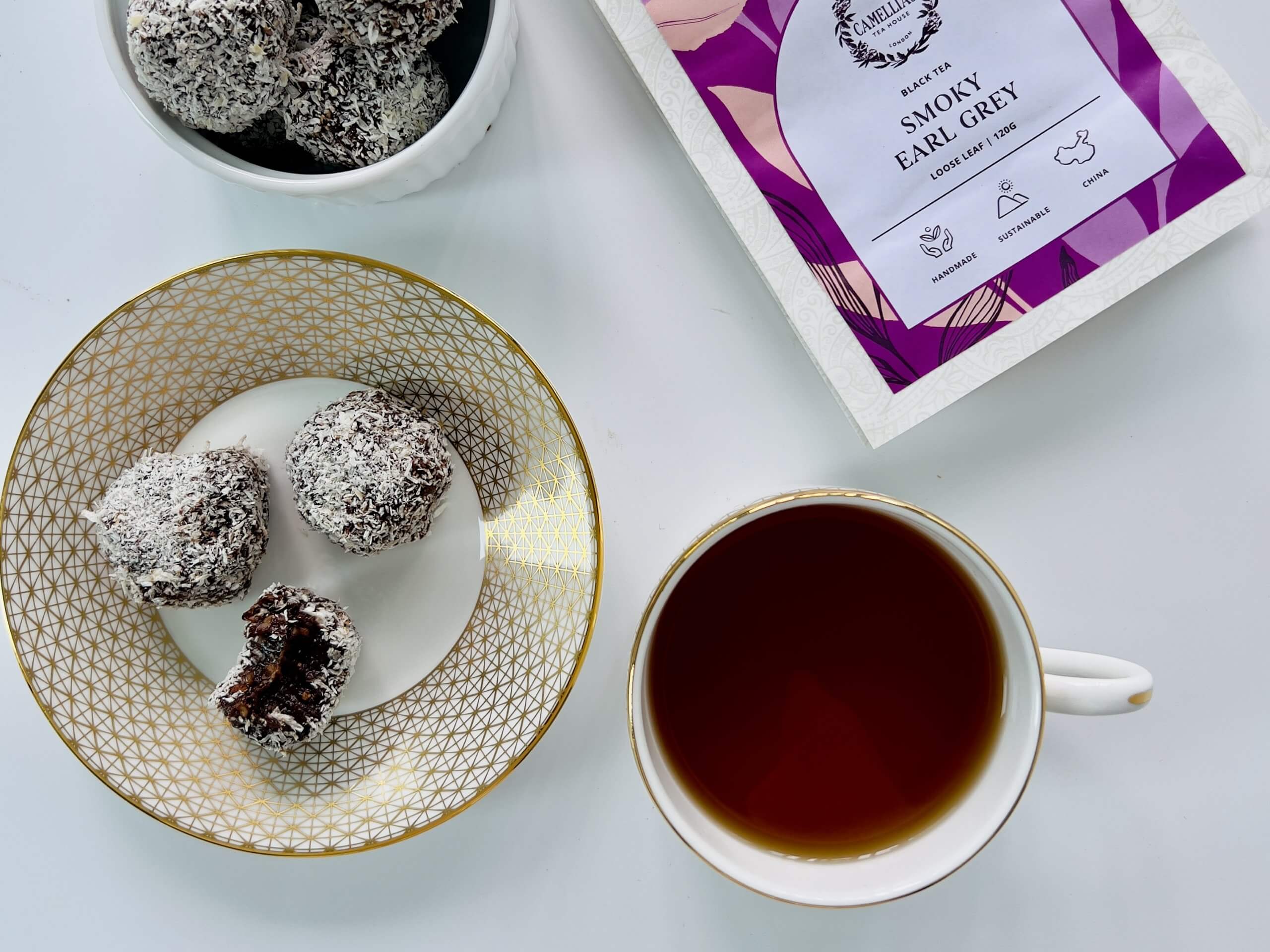 If you love Lapsang Souchong and Earl Grey tea then this is the recipe for you. Our Smoky Earl Grey tea combines the two teas with warming notes of ginger. We wanted to create an energising recipe that went well with tea and support Veganuary January – this is what we came up with…
The smoky energy balls are quick, healthy, vegan, gluten-free, and super easy to make. The recipe requires only healthy ingredients and is easy to adapt according to your taste preference. We love this slightly-caffeinated treat, which is sweetened by dates and a bit of maple syrup (you can use a sugar alternative or just add more dates and leave out the maple syrup). The energy balls contain almonds, which are good for the brain and generate heat in the body. Dates also provide heat and energy, whilst the caffeine from the tea gently stimulates and fuels the body for the day.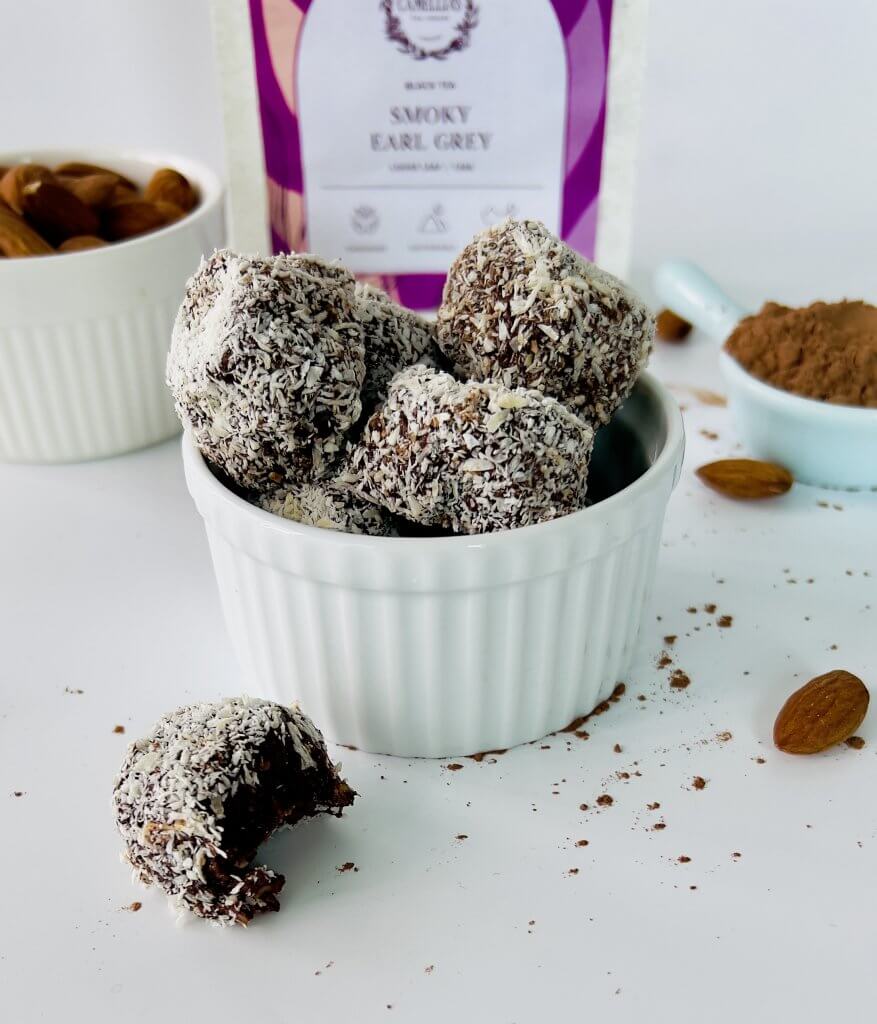 Sometimes, it gets a little nippy in our UK office, but we don't mind as it means drinking more tea to warm up!! We love to indulge in one of these delicious energy balls, which offers a unique combination of dark chocolate, smoky bergamot notes with a hint of ginger and the amazing crunch of almonds that leaves you craving for more!
If you have young children, then you can make the energy balls caffeine-free by swapping Smoky Earl Grey for Very Berry tea, which is made entirely of berries. The combination of chocolate, berries, and almonds is delicious and enjoyed by adults too, especially when accompanied by a hot cup of Signature English Breakfast Tea!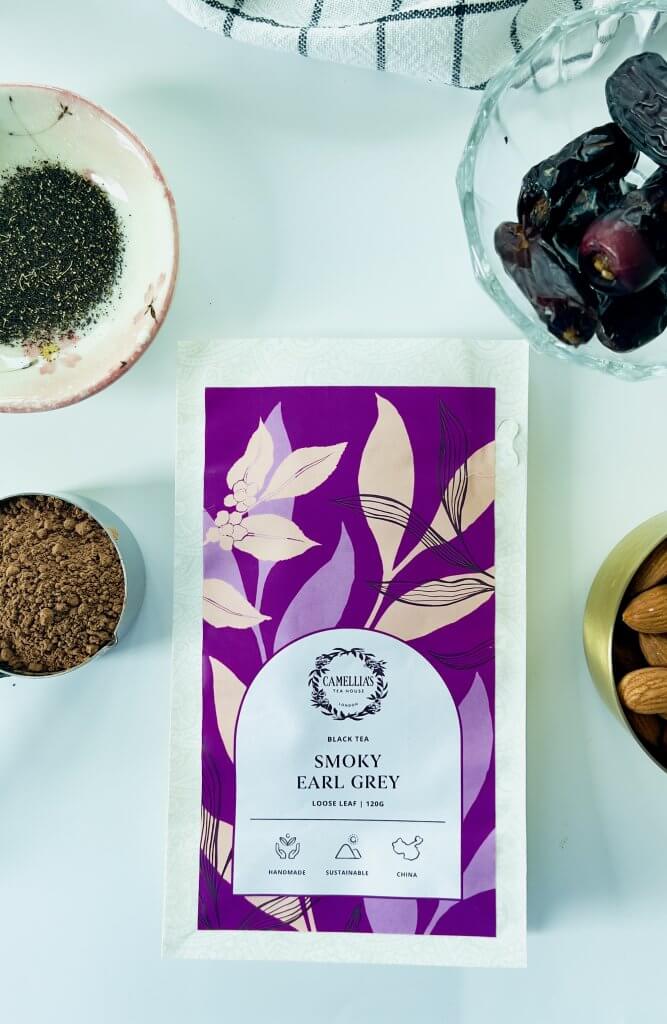 Tips
When combining all the ingredients in a food processor, the mixture may be too thick and clumpy to blend; you can add a small amount of maple syrup, coconut cream, coconut milk or even water to get the mixture moving. If the ingredients are too dry after blending then add a small amount of maple syrup. The consistency should be just right to roll in your hands and create a ball shape. If the mixture is too sticky to roll then you can add more cocoa powder or shredded coconut to get the texture you need.
To make the energy balls, ground the tea leaves in a coffee mill. If the leaves are still too coarse then finish off by working the ground leaves through a fine sieve using a spoon.
Almond Butter – try to get the runny and gooey variety, which works better for this recipe. We liked runny, gooey, and crunchy for the extra bite and texture.
To keep it a healthy family snack, we ensured all our ingredients were organic, but non-organic is good too. Instead of maple syrup, we recommend monk fruit or xylitol as a sugar alternative.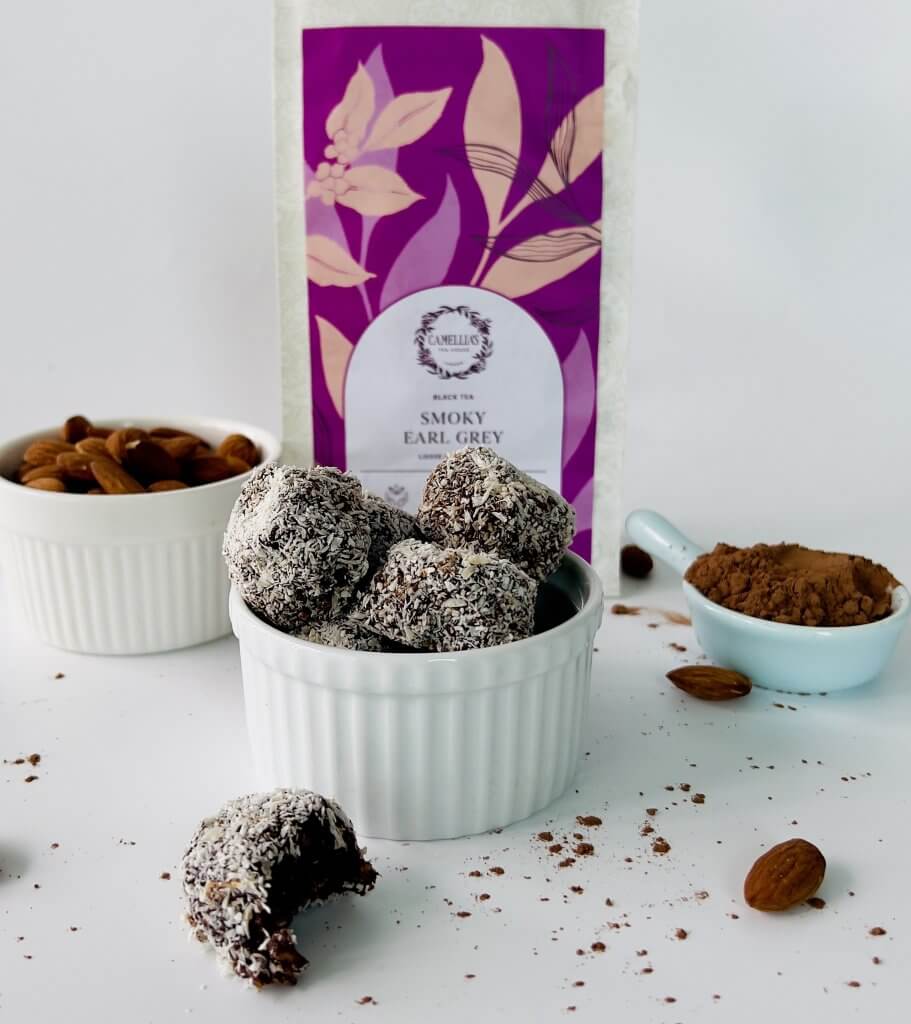 Variation to the recipe
We rolled the energy balls in coconut to finish, but you can opt for cocoa powder, grated nuts, matcha tea powder (if not using Smoky Earl Grey), or even icing sugar for extra sweetness.
Storing
If you want to make the energy balls in bulk, you can store them in the freezer, but make sure to defrost them completely before consuming them. Otherwise, they store well in the fridge in an air-tight container for up to a week.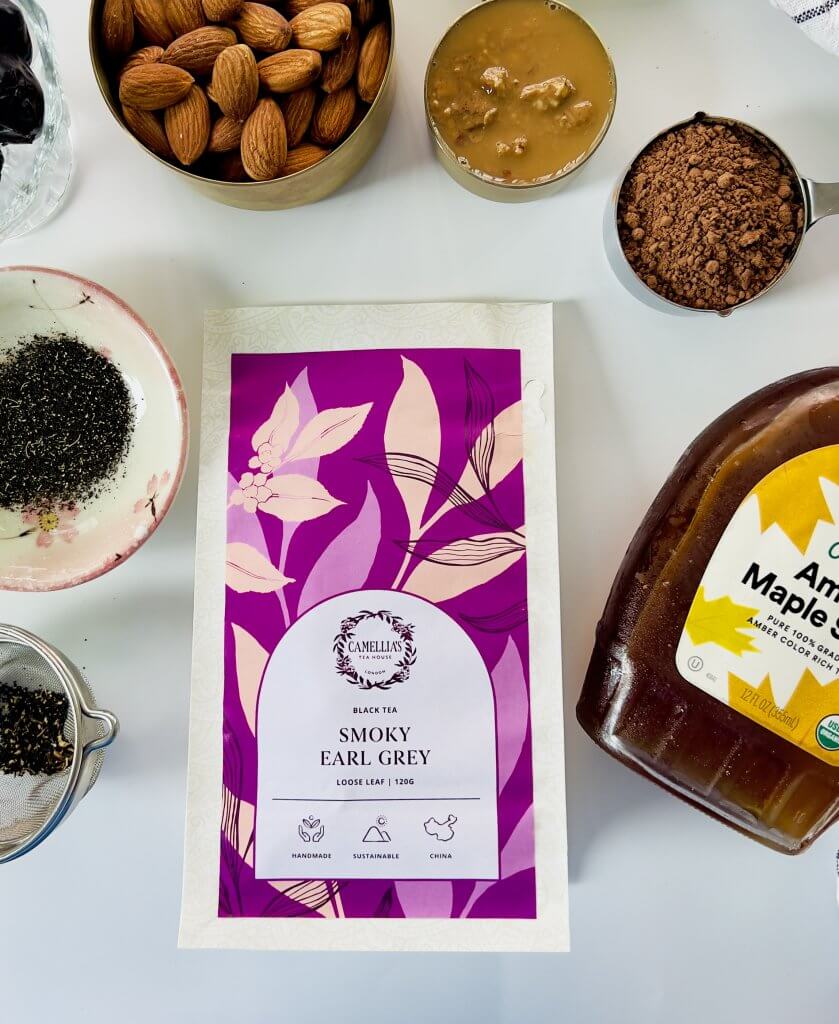 Ingredients
2 teaspoons Smoky Earl Grey tea leaves grounded
1 cup/ 143g plain almonds
10 Medjool dates pitted
¼ cup/67g almond butter
¼ cup + 1 tablespoon/32g dark unsweetened cocoa powder
2 tbsp maple syrup
1 tsp vanilla extract
¼ tsp salt
Method
Combine all the ingredients in a food processor. Roll in your hands to make a ball shape and coat with shredded coconut. Place the balls in the fridge till firmed up slightly.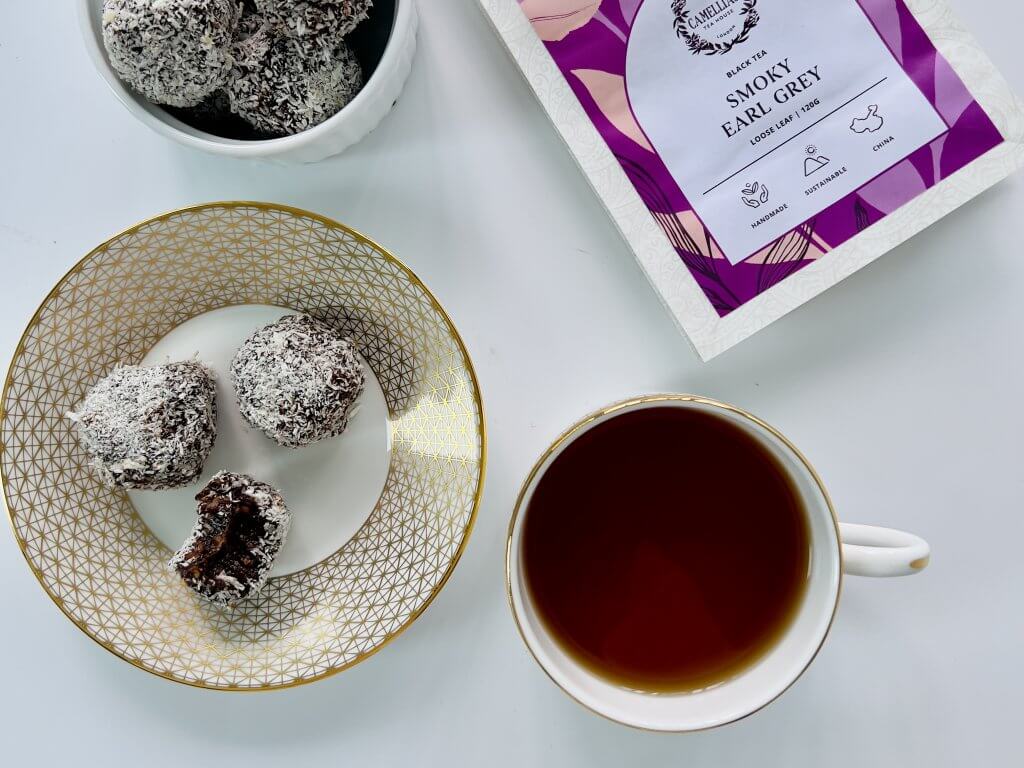 Enjoy with a hot cup of Smoky Earl Grey tea to enhance the smoky bergamot experience.
We hope you enjoy this lovely seasonal recipe and wish you all a happy Veganuary month!
Love
Camellia's Tea House
#vegan #veganuary #energyballs #teasnack #teafood #blacktea #lapsangsouchong #earlgrey #tea #healthliving #gluten-free