Promoting Gut Health by Pickling Green Tea
Green tea is pretty amazing whether you enjoy brewing a delicious cup and reap the health benefits or recycle the leaves and use it in your home for household usage. Green tea is also well-known for the part it plays in culinary creations but not really known for the delicious and healthy pickles it can create.
Green tea has been well documented for its prebiotic properties which help promote growth activity of essential microorganisms in the gut. By pickling green tea, you are more than likely to create a power house probiotic but also making this as a delicious addition to a meal or adding a touch of umami to your salad.
Here is how you do it with your leftover brewed tea leaves
To prepare the leaves for pickling you will need to ferment them first. Make a large pot of green tea or several pots as you will need enough used leaves to cover 1/3 of a pickling jar. It doesn't matter if you make too much tea, as you can ice it and drink the next day or use it as a face or hair wash. Dry out your used green tea leaves either sun-dried or leave the leaves in a jar with the lid slightly opened for 3 days till the leaves are dried. We like to use our Lung Ching tea as it seems to offer the best flavour profile for the pickle.
You will also need 1/3 jar of white wine with 2 tablespoons of sugar depending on the size of your jar (ideally you will use ½ cup wine to 1-2 tablespoons sugar). We are using a 400ml jar. (Alternatively, you can use 1/3 of mirin instead of white wine and sugar) and 1/3 cup champagne vinegar.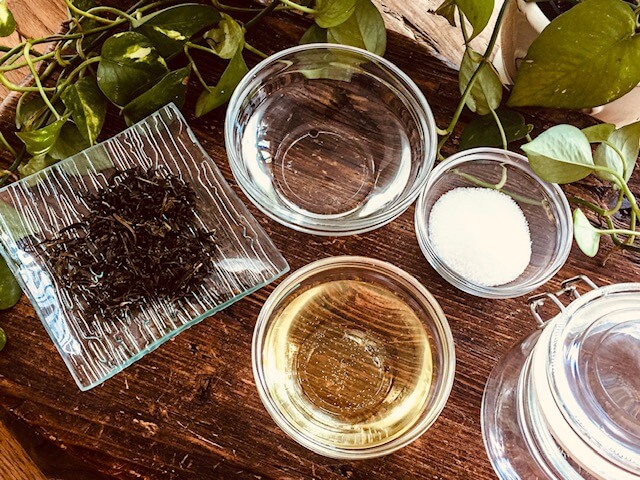 Add all the ingredients to the jar and shake well.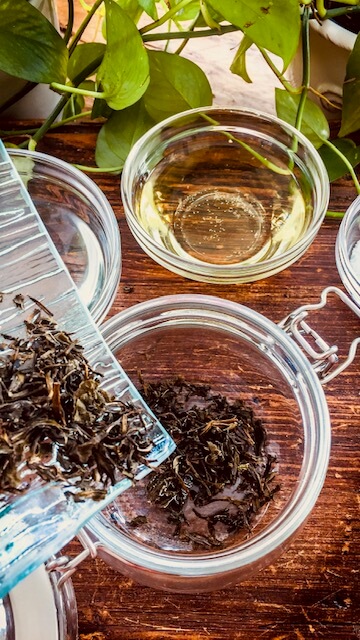 We like to leave it for three days to ensure the leaves are well pickled but you can just leave it overnight.
There are different variations to the pickling process if you want more flavour and this can be done by adding garlic, chilli and aromatic herbs which then turns this to a typical Burmese pickle. We have not included the recipe here.
Tip
Brew your tea in 80 degrees hot water for 3 minutes and strain. Taste the tea leaf and if too bitter then re-brew for another 3 minutes. If the ingredients in the jar are filled to the top, then create a barrier between the lid and the jar by placing wax paper, so that the acidity of the vinegar does not corrode the lid.