Mother's Day Celebrations
It goes without saying that being a mother is one of the toughest yet the most rewarding jobs out there.  Not a day should go by where we are not grateful for all the hard work and sacrifices mothers make for their families.  That's why it's important to use Mother's Day to tell your mum you appreciate, respect and admire her.
In our opinion having one day to celebrate doesn't seem like much time, given all the hard work which goes into being a mum.  Most families celebrate Mother's Day with a lunch or dinner, but we thought of making it extra special by going the extra mile.  Simple creations can say and mean so much and that's why we have come up with a couple of tea infused morning parfaits recipes for you to try.
For the Earl Grey parfait you will need to prepare your tea infused yogurt 4 days in advance but it will be well worth the effort!  For the recipes we have chosen peaches, oranges, banana and blackberries as our fruits (you can choose any seasonal fruit).  We love our Matcha tea powder and Extravagant Earl Grey tea and have chosen them for our tea parfait.
We hope you enjoy whisking up these wonderful recipes but more so seeing the delightful look on your mum's face!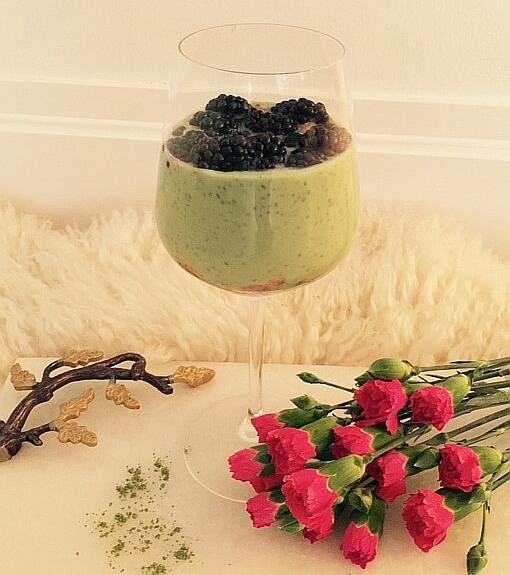 Matcha Chia Parfait
Serves 4
Ingredients:
1 teaspoon Camellia's Matcha tea powder
1 cup whole milk (you can choose dairy free)
1 cup plain whole milk yogurt (you can choose dairy free)
6 teaspoons maple syrup or honey
3 tablespoon chia seeds
1 fresh ripe peach pureed or mashed
1 banana mashed
1 cup blackberries sliced in half
Method:
Place the matcha in a medium glass bowl.
Heat the milk in a small saucepan over low heat to 175F/80°C.
Slowly pour in ¼ cup of the milk over the matcha powder whisking vigorously for 1 minute.
When the matcha is completely dissolved, whisk in the remaining milk.  Let it cool 10-15 minutes.
Whisk the yogurt into the matcha milk.  Stir in the maple syrup and chia seeds.
Cover and refrigerate for 5 hours or overnight, until custardy.
Mix the banana and peach mash.
Layer bottom of each individual glass bowl or wine glass with the fruit mash, followed by the matcha yogurt.
Top with sliced blackberries.
Extravagant Earl Grey Parfait
Serves 4
Ingredients:
2 cups plain whole milk yogurt
2 teaspoons Camellia's Extravagant Earl Grey tea
Tea filter bag
2 peaches thinly sliced
1 large orange cut into segments, with pips removed
Method:
Pour yogurt into a glass jar.
Place the tea in a paper filter bag and submerge into the yogurt.  Leave end of the filter bag hanging outside the jar.
Seal the jar and refrigerate for up to 4 days.  The longer the infusion, stronger the flavour.
Take the jar out everyday and give it a good stir.  When ready to use give the bag a good squeeze over the jar to extract all the tea liquid and give it a good mix.
In a glass bowl layer in order: 1 tablespoon yogurt, sliced peaches, 1 tablespoon yogurt, sliced oranges.
Finally decorate with a mixed layer of oranges and peaches.