Honey & Berry Baked Cheesecake Tarts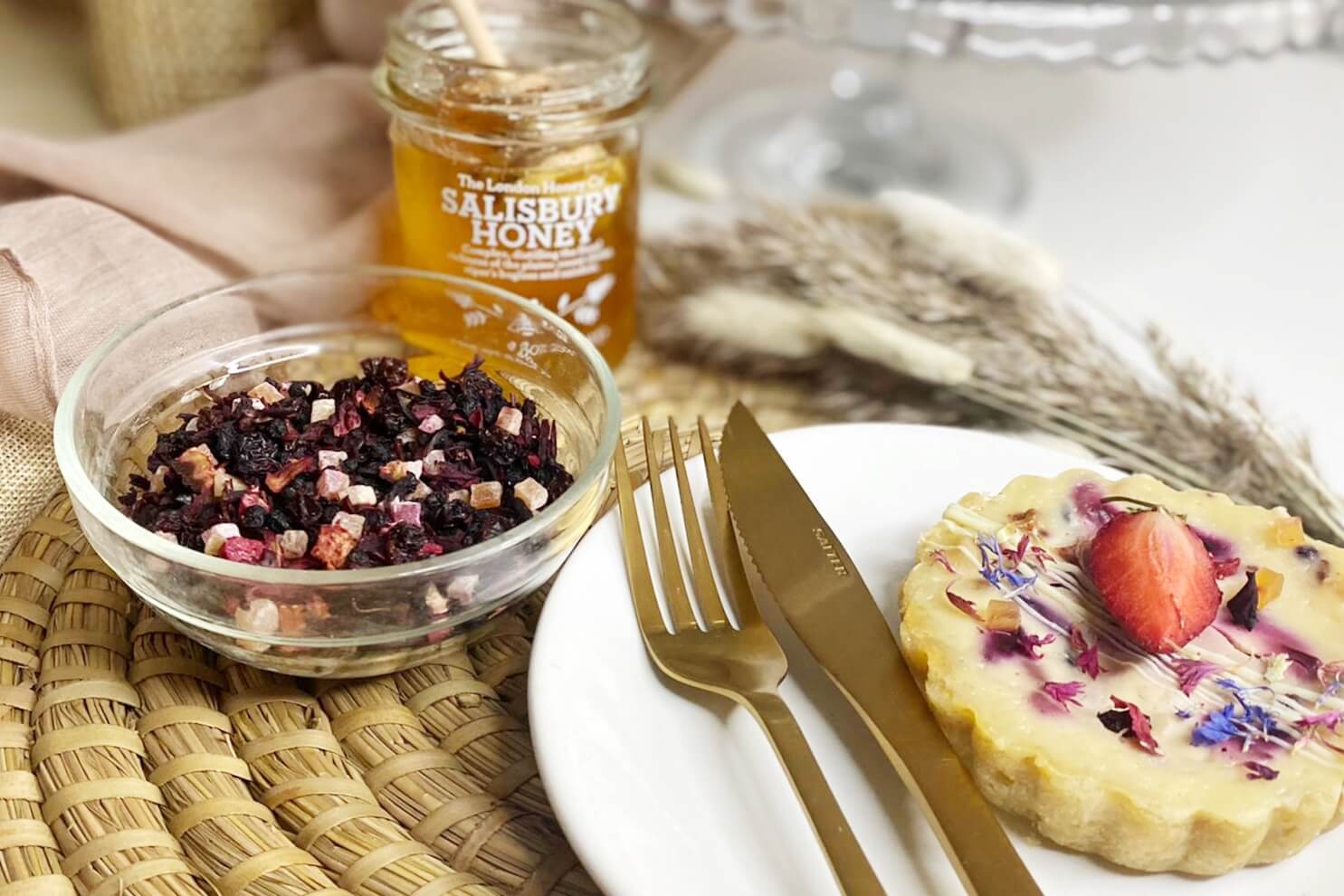 Dear Tea Lovers,
We have a wonderful recipe for you to brighten up your day.
This week we have a special collaboration with The London Honey Company; the original founders of the urban beekeeping movement in London when originally established back in 1999.
Now specialist producers of the finest British honey their glorious single-origin honey and pure honeycomb range is produced from their hives across the British countryside. Each of their jars of honey carries a unique flavour profile based on the flora and the province the honey is produced from.
We chose their Salisbury Honey for this recipe. The bees visit viper's bugloss, sweet clover, and sainfoin which produces a delicate taste profile- adding a subtle sweetness to the tarts.
This recipe is the perfect dessert for any dinner party. What's even greater is the combination of London Honey Co's delicious Salisbury Honey and our Very Berry tea from our Tisane range. The honey from The London Honey Co is always unpasteurized and minimally filtered retaining its natural properties. Our Very Berry tea is characterised by a vivid fruitiness and a pleasing sweetness that is balanced by the tart hints of hibiscus. A must for all berry lovers. The two ingredients complement each other well to create delicious recipes. Enjoy these cheesecake tarts with your loved ones.
Ingredients
For cheesecake filling
2tbsp Salisbury Honey
5 strawberries diced
5tbsp Very Berry Tea
400g cream cheese
1 tsp vanilla extract
2 eggs
For shortbread base
140g plain flour
85g butter
60g caster sugar
1 egg
1tsp vanilla extract
1 tsp almond extract
Method
In a bowl add the flour, butter, sugar, eggs, vanilla extract, and almond extract. Combine with your hands until a dough is formed.
Place into the fridge to chill for 30 minutes
Place the cream cheese into a bowl and whisk till fluffy
Add the vanilla extract, honey and Very Berry tea then mix
Add the eggs and whisk together
Remove the chilled dough from the fridge and distribute the dough into 6 small tart tins
Mold the dough into the tart tins and refrigerate for 10 minutes
Bake the shortbread in the oven for 10 minutes @ 170c
Then take out and leave aside to cool
Once the base has cooled down, spoon two tablespoons of the cream cheese mixture into each tart tin
Bake at 170c for 12-15 minutes
Once baked, leave on a cooling rack to cool down
Serve with some fresh berries and a drizzle of honey.
Best to enjoy your cheesecake tarts with a pot of your favourite fruit tea 😊
We can't wait to write to you again!
Love,
Camellia's Tea House