What is Happy Tea, and Does it Work?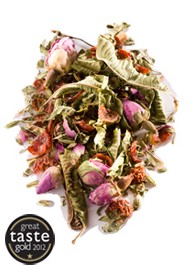 With spring in full swing, what better tea to celebrate than with our very own Happiness Tea? This truly delightful blend is packed with goodness from fennel to rosebuds, and will have you bouncing through the upcoming months!
This tea has been tailored to uplift and revitalise your senses, and what could be more uplifting that the zesty fragrance of lemon verbena? Lemon verbena, although native to Argentina and Chile, is grown all around the world and has been used in tea for many years. It is renowned for it's antioxidant properties, which makes it a delightful addition to our tea!
Lemon verbena is believed to help strengthen the nervous system, and ease stress and tension to your body.
We believe Happiness Tea to be positively bursting with immune boosting ingredients. Take fennel for instance, fennel is believed to have high levels of Vitamin C, but more specifically, is thought to help in the form of inflammation, especially in aspects such as joint pain and arthritis. Fennel in tea is also believed to improve metabolism and weight loss when drank regularly, so that could be another thing to be happy about!
But no no, fennel isn't the only ingredient in this blend to give your immune system a loving nudge. Happiness Tea has the wonderful addition of nutrients and flavour from rosehips and rosebuds. Rosehips are rich in Vitamin C, a natural antioxidant. Not many people realize that rosehips are the dark horse of Vitamin C content, they contain higher levels of this nifty Vit than oranges do. Rosebuds, too have a high Vitamin C content, and are also believed to have great beautifying benefits for the skin, helping to improve oily skin, which in turn allows for a more radiant complexion.
Our award winning Happiness Tea is a delicious blend that'll have you smiling on the inside and the outside!
By Anandi
Happiness Tea Subscription
Happiness Tea is a delightfully tasty and uplifting infusion which helps to clear the senses and revitalise the spirit.