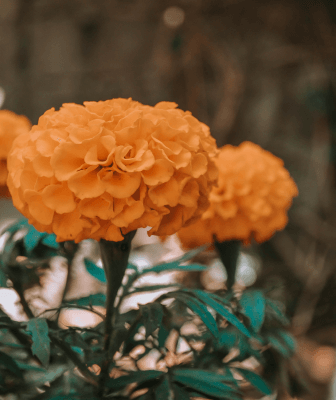 Calendula officinalis (Asteraceae)

Marigold is one of the most well-known and versatile herbs in Western herbal medicine. The bright orange petals are an excellent remedy for inflamed and angry skin; their antiseptic and healing properties help prevent the spread of infection and speed up the rate of repair. Marigold is a cleansing and detoxifying herb, and the infusion is used to treat chronic conditions by herbalists and traditional, complementary practices.  
Marigolds are native to North and South America, but some species have become naturalized worldwide. The plant of marigold reaches the height of 31 inches or 80 cm. It has oblong-lanceolate leaves with a length of 2 to 7 inches or 5 to 17 cm. It is easy to cultivate marigolds. It grows in many types of soil as long as there is good sunlight. Generally, marigold is an annual plant but can be perennial if grown in a colder climate.
Marigold In History
The Aztec people attributed magical, religious, and medicinal properties to the earliest use of marigolds. The first recorded use of marigolds is in the De La Crus-Badiano Aztec Herbal of 1552. The Herbal records the use of marigolds to treat hiccups, being struck by lightning, or "for one who wishes to cross a river or water safely." The last use confirms the magical properties ascribed to marigolds.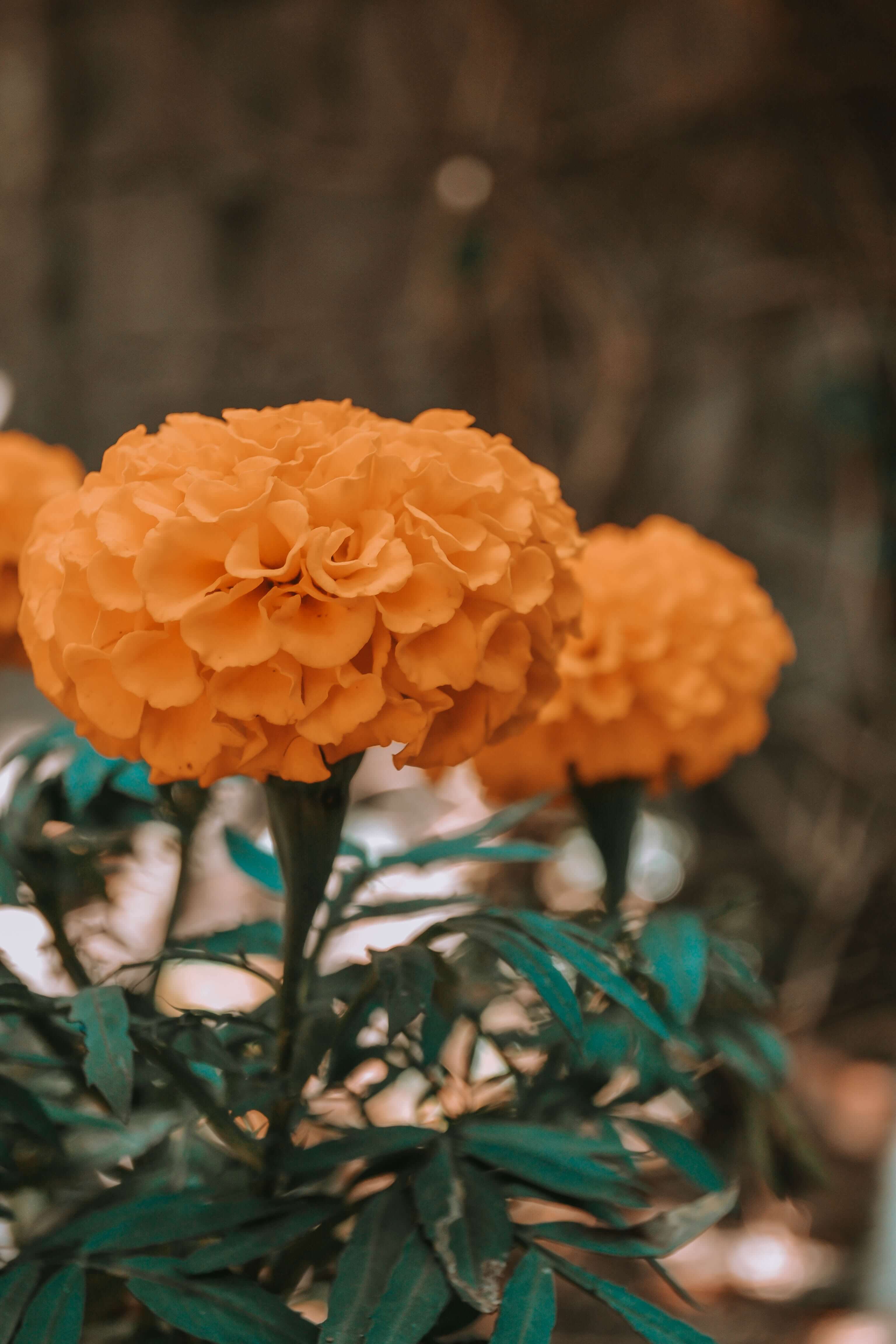 Folklore
Marigold's folk name was Bride of the Sun and was known for its protective powers, prophetic dreams and psychic powers. Marigolds were picked at noon when the sun was at its hottest, which offered strength to the heart. Garlands of marigolds were strung on the doorposts to stop evil from entering the house and scattered under the bed for protection whilst sleeping. 
Fun Facts
1.Marigolds add sweetness to a salad
2.Marigolds represent power, strength and light that lives inside a person
3. Marigolds are known to be one of the most popular and well-known flowers in the world
4.  Marigolds were initially cultivated in Mexico over 2,000 years ago
 5. They attract butterflies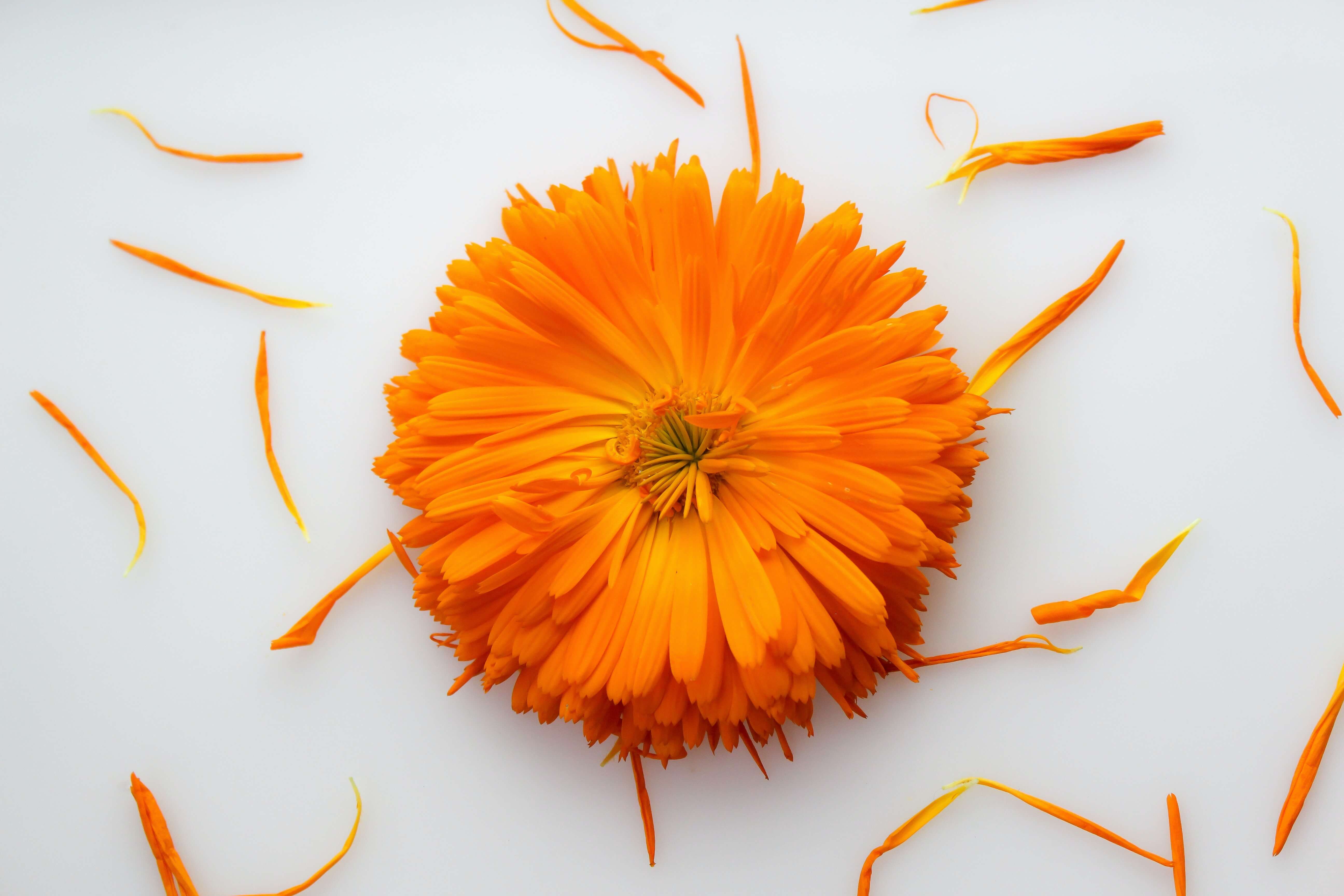 What Are The Health Benefits Of Marigold?
Marigold is antiseptic, and clinical studies have demonstrated its anti-inflammatory, antibacterial, and antiviral activities. The health benefits are due to the resins and show significant activity against Candida albicans. The herb also astringes the capillaries, an action that explains its effectiveness for cuts, wounds, varicose veins and various inflammatory conditions.
A combination of allantoin and calendula extract applied to surgically induced skin wounds in rats has been reported to stimulate physiological regeneration and granulation. Allantoin alone exerted a much weaker action.  
Skin
Marigold is known for its safety for inflammation on the skin, whether due to infection or physical damage. The herb benefits slow-healing wounds and skin ulcers and is ideal for first-aid treatment of minor burns and scalds. 
Marigold is used throughout Europe for wound healing and skin and gastric ulcers treatment. 
Its healing powers appears to be based at least in part on its terpene content.
Does marigold/calendula help with fungal infections?
Calendula demonstrates marked antifungal activity and may be used both internally and externally to combat fungal infections.
Can marigold/calendula help with vaginal thrush?
Clinical studies were carried out in 2014 on 18-45 years old women with vaginal Candidiasis. The experiment resulted in calendula vaginal cream being effective and with a greater long-term effect than clotrimazole.
Digestion
When marigold is ingested internally, it has shown to have anti-inflammatory actions in the digestive system and may help treat gastric and duodenal ulcers. 
As a cholagogue, it may help relieve gallbladder problems and many of the vague digestive complaints known as "indigestion".
Does marigold help with painful periods?
Yes, it has a reputation for helping with painful periods and delayed menstruation.
Are marigold flowers edible?
Yes
Are marigold and calendula the same thing?
Yes
Cleansing
Marigold has long been considered a detoxifying herb and helps treat the toxicity that underlies many fevers and infections and systemic skin disorders, such as eczema and acne. 
The herb is also considered cleansing for the liver and gallbladder and treating problems affecting these organs.
Cancer 
According to the US National Library of Medicines, the Calendula and some of its components show cytotoxic activity (cell death or cell damage) against cancer cell lines. Most research uses flower extracts, but the plant root might carry a higher level of cytotoxicity towards cancer cell lines.
Any Contraindications?
Marigold is a possible allergen for those with known sensitivity to members of the Asteraceae family.
Teas With Marigold
Marigold is a great medicinal herb used by our ancestors and herbalist to treat numerous health conditions. The addition of marigold to herbal tea formulas enhances the healing effect and offers delicious floral notes to the cup.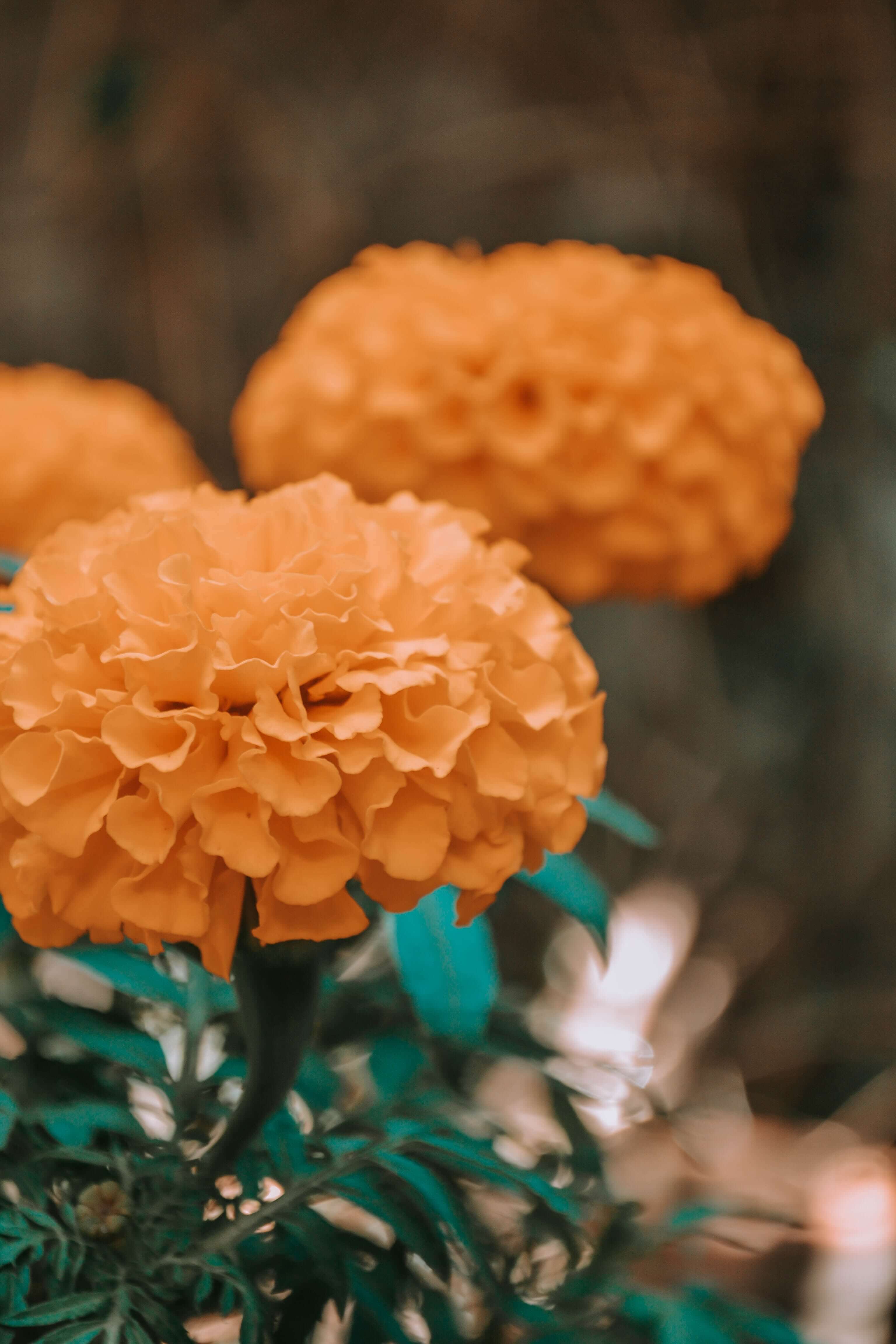 Radiant has been carefully designed with traditional herbs well-known to herbalists to help with skin disorders. The addition of marigold combines well with rose and chamomile to help reduce skin inflammation. It offers delicate sweet and floral notes to a cup and makes a great bath soak or facial steam for some extra TLC to the skin.
Relax and Recover has been created using ingredients scientifically proven for their health benefits. This dosage tea formula uses marigold and other organic herbs to help with inflammation, gut health and recovery from chronic illnesses.
Disclaimer: This website contains general information about the traditional use of herbal teas.  The information is not advice, and should not be treated as such.  If you have any specific questions about any medical matter you should consult your doctor or other professional healthcare providers.