How can you celebrate Valentine's Day 2021?
We chatted over a cup of tea with Lubna Madan, co-Founder of Camellia's Tea House and Head Tea Designer, about what Valentine's Day really means to her this year…
There's so much fuss over Valentine's Day and it's easy to forget what's it all about! For me, it's about showing the people in your life how much you care. To express love and gratitude – you don't have to spend a lot of money or plan anything elaborate to make your loved ones feel special — it's all about what love means to you.
Some of us are still living under a cloud of heightened tension, fear and mistrust – collectively we could create more positive vibes and it doesn't have to be just on Valentine's Day. Do something small and crazy with your partner, family, or close friends. I live in Singapore with my husband and toddler and I miss our family who lives so far away from us, especially as Covid has kept us apart for too long! Thankfully we are surrounded by great neighbours who have become our nearest and dearest friends and celebrating with them safely, keeps us sane and feeling loved.
I would like to share a few fun ideas over the month of LOVE and hope this inspires you too! A word of warning; I am obsessed with tea so any creative pursuits will always have a tea element to it.
Heart-shaped sandwiches
How do you cut a sandwich into a heart? I simply use my cookie cutter and fill them with cheese and mayo or cream cheese and strawberries. My son loves shaped snacks anytime of the year, but to cut heart shapes is especially fun for Valentine's Day. This also looks nice for an Afternoon tea spread served with Rose Tea if you decide to celebrate Valentine's Day!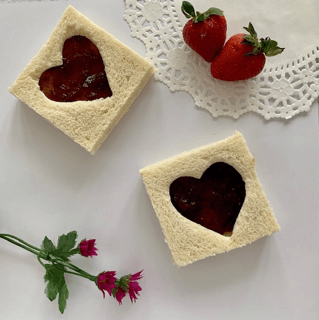 Heart-shaped strawberry scones
My family are obsessed with scones with plenty of clotted cream and jam. I am simply going to adjust my regular recipe and add fresh chopped strawberries and a teaspoon of ground rose tea. I adore Rose tea so I will brew a large pot to wash down my scones. For a caffeine-free option, Rose Buds will make a great substitute!
If you are crazy about Rose Tea like me then you might want to try Valentine Rose Tea Infused Brownies.
Family tea party
I love a good Afternoon Tea and would frequently go to a new place with my friends when I lived in New York. It's the most perfect way to catch up with friends whilst drinking tea, eating lovely finger sandwiches and eating scones with beautiful tea ware. Since becoming a mum and moving countries, I now like to create an Afternoon tea experience with family at home. Sometimes, I bring out my 3-tier cake stand depending how elaborate I want to make it.
I usually keep it simple so its child friendly with sandwich fillings of mayo and cheddar, egg and cress and for mummy and daddy, smoked salmon and cream cheese with dill.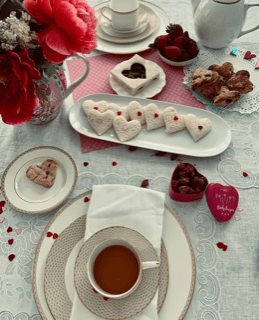 What Tea is served at a Tea Party?
My favourite tea to serve is Rose Tea and I sometimes alternate this to Chocolate Tea. Rose tea is ideal for anyone who likes roses. It is a light and refreshing black tea infused with rose petals. In order to create a wonderfully heady aroma and flavour of roses, rose petals are scattered over drying black tea leaves during its process in the tea gardens. This allows the natural delivery of scent and flavour to the drying tea leaves.
How do I love My-Self On Valentine's Day?
Before marriage when I was single and fancy-free, I neglected myself and without a significant other, I felt a looming sense of dread as February approached. Then one day the penny dropped; Valentine's Day is a celebration of love and not just romance. Self-love is about a genuine acceptance of who you are, learning to have a healthy relationship with yourself will help you in the future when that special person walks into your life.
Practicing self-love doesn't have to be just on Valentine's Day, but it comes as a reminder to take time out for yourself to enjoy the things you love doing. You can create your self-love ritual by simply having a nice long bath, watching your favourite movie, reading a book, meeting with girlfriends, enjoying a glass of wine, or preparing a delicious meal. I personally, love to make a pot of my favourite tea (always Rose Tea for February) with a book and soft classical music in the background. For a caffeine-free option, I love Rose Bud tea, or Lover's Tea especially for evening.
Chocolate Tea infused coconut balls
Chocolate tea is another favourite of mine especially if I am craving something sweet and don't want the calories! It's a delicious blend of black tea combined with cocoa nibs and coconut to produce a wonderfully light black tea with a strong aroma and undertones of chocolate. For a lighter sweet treat, I combine 1 cup of almond flour, 1 cup coconut flour or shredded coconut, brewed and cooled chocolate tea (approximately ¼ cup) and 2 teaspoons of sugar (any amount to your desired taste – I use Xylitol for fewer calories). Knead the ingredients to create a dough. If too crumbly then add some more tea. If the dough is too soft to handle, then at this point you can refrigerate it till it firms up then use a small scoop to make small balls. I like to roll the balls in extra shredded coconut to finish.
Tea and Poetry
Where there is love, there is no darkness.
True love never grows old.
Absence sharpens love; presence strengthens it.
In my opinion, nothing is more romantic than teatime poetry in candlelight with your other half or even on your own. You create this space for some quiet contemplation and relaxation whilst collecting joyful memories in a peaceful and calm setting. Lover's Tea is a wonderful choice as it contains great ingredients such as lemongrass, cinnamon, passionflower, damiana, peppermint and rose. The infusion has been created to evoke intimacy and awaken the senses. Damiana is the key ingredient known by our ancestors to help with fertility for both men and women.
If you are avoiding alcohol, then I suggest to cold brew Lover's Tea the night before (3 teaspoons of tea in 1 litre of filtered water). Pour into champagne flutes and decorate it with a rosebud floating on top of your infusion.
I hope you enjoy some of these ideas and wishing you all a very Happy Valentine's Day!