Assam Bargang GFBOP Subscription
Assam Bargang tea comes from an estate located on the north banks of the Brahmaputra river in the Sonipur district in Northern India. The leaves are broken, which helps to give it a strong and creamy infusion, which is perfect for those looking for a more powerful Assam brew.
Choose product packaging
Artisan Loose Leaf Pouch
125g
TEA INFO

Tea Type
Black Tea / Traditional
Taste Profile
Robust

Food Pairing
Dark Chocolate
BREW THE PERFECT CUP

Amount
1 teaspoon

Temperature
95-100 °C

Time
4 minutes
TEA ORIGIN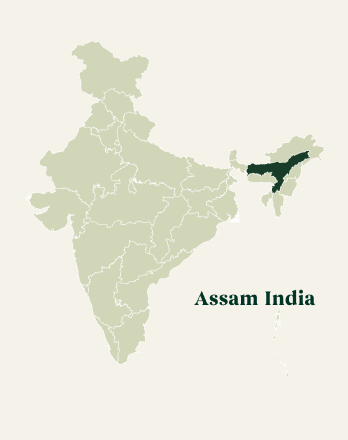 ABOUT THIS TEA
Originating from a tea garden on the north bank of the Brahmaputra River in Assam, this wonderfully robust tea is the ideal breakfast companion.
TASTE
Full bodied and robust with creamy texture and malty undertones.
AROMA
A full aroma interspersed with sweet, raisin like and tangy notes.
INFUSION
Dark golden brown with some viscosity and perfect with milk