Urtica dioica (Urticaceae)

Nettle (stinging nettle) is one of the most widely applicable plants in the materia medica. The herb is known to strengthen and support the whole body. Throughout Europe, nettle is used as a spring tonic and general detoxifying remedy. Nettle grows in temperate regions worldwide. The shoots are picked in spring as a tonic and a vegetable.  Aerial parts are picked in summer when the plant is in flower. The root is harvested in autumn.
Nettle has fine hairs on the leaves and stems that contain irritating chemicals released when the plant comes in contact with the skin. The hairs of the stinging nettle, usually are very painful to the touch. However, when they contact a painful area of the body, they can decrease the original pain. Scientists think nettle does this by reducing levels of inflammatory chemicals in the body and interfering with the way the body transmits pain signals.
Is nettle and stinging nettle the same thing?
Yes
Nettle In History
Nettle, a herb initially found growing in Europe, Asia, North America, and Africa, has been a popular source for natural teas and hot drinks for centuries. Over 5000 years ago, nettle was cultivated as a crop and used for various medicinal purposes.
The ancient Greeks and Romans cultivated more acres of nettle than any other crop, and they used it extensively as food and medicine and in clothing. Romans used nettle for a practice known as urtication, in which stalks of nettle were cut, tied together, and used to flog arthritic or swollen joints. The result was nettle rash which improved circulation to the area, thereby relieving aches and pains. This practice is still used in some parts of the world and is reported to be more effective than drug treatment.
Nettle was used as a diuretic (to rid the body of excess water) and to treat joint pain in medieval Europe.
Nettle has a long history for its medicinal usage. The Greek physician Dioscorides listed a range of benefits – the freshly chopped leaves as a plaster for septic wounds, the juice for nose bleeds, and the cooked leaves mixed with myrrh to stimulate menstruation. Today nettle is a popular remedy for hay fever, arthritis, anaemia, and, surprisingly, even for nettle rash
Folklore
The Danish believed that nettles grew in areas where elves were buried. Legend has it that Milarepa, a Tibetan saint and ascetic with green hair and skin, managed to survive decades of meditation by feeding off nettles alone. Thor, God of Thunder, was represented by nettles; therefore, they were burned in the fireplace during storms in Scandinavia. 
The nettle's sting is a 'counterirritant': this means its chemicals can decrease an existing pain. Roman soldiers allegedly used this effect to adapt to Britain's colder, harsher climate – rubbing nettles on their arms and legs to help them keep warm.
Fun Facts
It was one of the most important plants used in the manufacture of cloth, and many considered nettle fabric to be more refined than cotton or linen

Nettle found in many gouda cheese varieties is produced in the Netherlands and Great Britain, the United States, and Canada.

Our ancestors used nettle fibre for clothing, cloth, paper, sacks and ropes.
4. Butterflies like to lay their eggs on stinging nettle, and when they hatch, caterpillars feast on the nutritious plant
5.  Before flax was introduced, nettle cloth was used until the 18th century in Scotland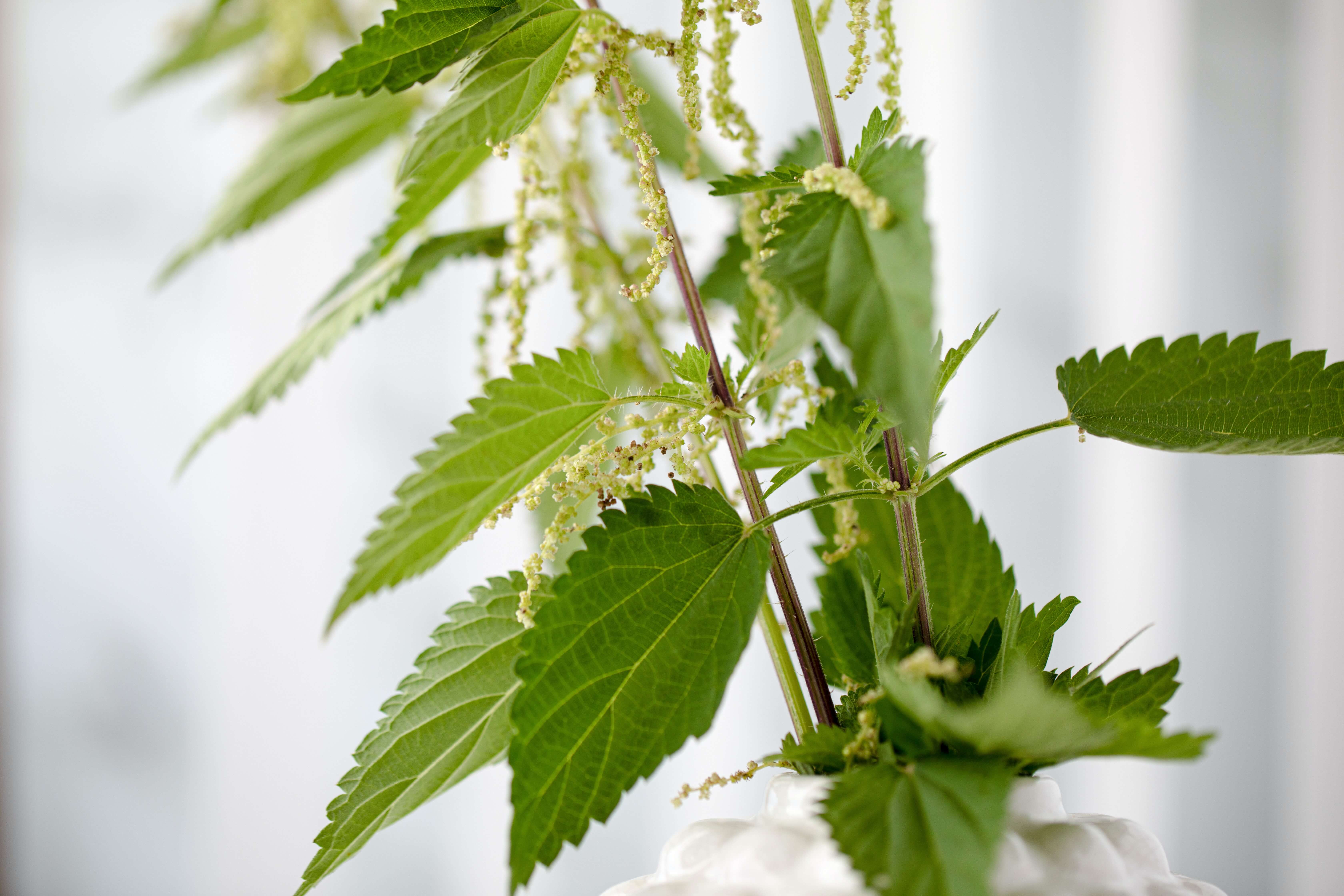 What Are The Health Benefits Of Nettle?
Nettle is known for its many health benefits, and herbalists have used it specifically for childhood eczema, especially in nervous eczema. It has been reported to treat adult eczema successfully. Nettle is known for its astringent properties, which helps relieve haemorrhage symptoms anywhere in the body.
Nettle has been used for hundreds of years to treat painful muscles and joints, eczema, arthritis, gout, and anaemia. Today, many people use it to treat urinary problems during the early stages of an enlarged prostate (called benign prostatic hyperplasia or BPH). It is also used for urinary tract infections, hay fever (allergic rhinitis), compresses or creams to treat joint pain, sprains and strains, tendonitis, and insect bites.
Osteoarthritis/Arthritis
The leaves and stems of nettle have been used historically to treat arthritis and relieve sore muscles. While studies have been small, they suggest that some people find relief from joint pain by applying nettle leaf topically to the painful area. Other studies show that taking an oral extract of stinging nettle, along with nonsteroidal anti-inflammatory drugs (NSAIDs), helps people reduce their NSAID dose.
The diuretic and anti-inflammatory action of nettle make it helpful in treating oedema and arthritis with swollen joints. It has also been reported to play an essential role in the chronic and degenerative conditions of the musculoskeletal system such as gout, joint pain and myalgia.
Hay Fever/Allergies
A study suggested that nettle capsules helped reduce sneezing and itching in people with hay fever. In another study, 57% of patients rated nettles as effective in relieving allergies, and 48% said that nettles were more effective than allergy medications they had used previously.
Different parts of the nettle plant possess other medicinal uses. The nettle leaves contain natural antihistamines, which enable them to reduce the symptoms caused by allergic reactions by inhibiting histamines – the cause of allergic reactions – in the body. Leaves also contain flavonoids, compounds that help reduce inflammation in the body. More studies are needed to confirm nettle's antihistamine properties.
Nutrients
Nettle is high in chlorophyll and other vital constituents such as flavonoids (quercetin), vitamin C, serotonin, and glucoquinone, which is hypoglycemic. Nettle also contains calcium, manganese, magnesium, vitamin A, B and K.  The most popular benefit of calcium is building healthy and strong bones, thus preventing osteoporosis and fractures. Calcium is also necessary for muscle movement since it carries nervous signals from the brain to every part of the body. Additionally, calcium promotes healthy blood vessels and helps with the production of hormones and enzymes for proper body function. 
Nettle is also abundant in magnesium and is an essential nutrient that helps regulate muscle and nerve function, blood sugar levels, and blood pressure, also playing a vital role in the production of protein, bone, and DNA. Manganese is key for producing energy in the body, protecting cells from damage, strengthening bones, and promoting immunity.
This humble herb provides generous amounts of other nutrients, mainly vitamin K (phylloquinone), which improves blood clotting and has been linked with higher bone mineral density and a reduced risk of fractures.
Good levels of B2 (riboflavin) ensure the proper growth, development, and function of body cells, as well as helping transform food into energy.  Additionally, nettle contains adequate amounts of minerals, such as iron, phosphorus, potassium, and copper, along with vitamins like B6 (pyridoxine).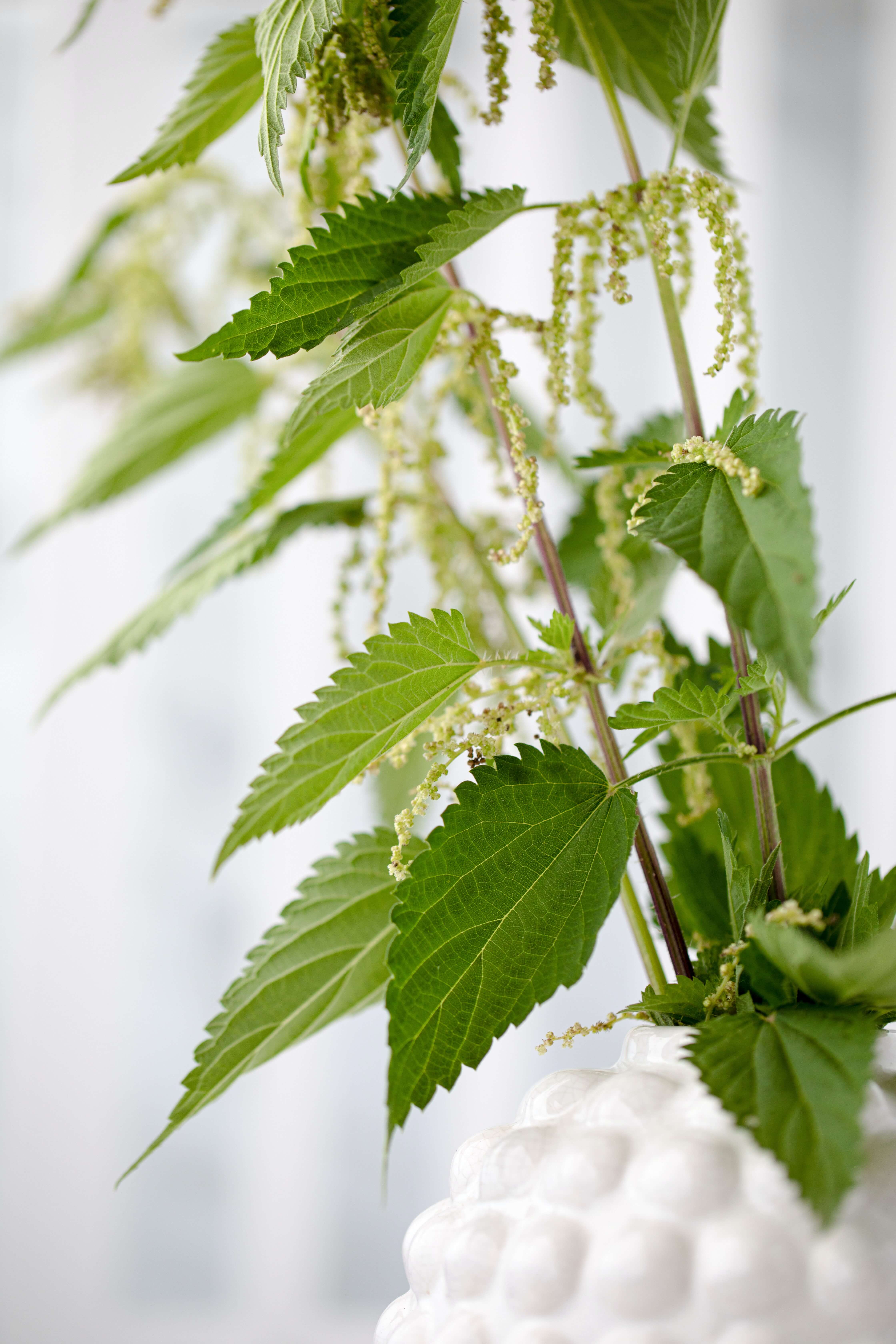 Benign Prostatic Hyperplasia (BPH)
Nettle has been used to support healthy prostate function, and there are human clinical studies supporting its use for this purpose.  Enlarged prostate happens when the prostate gland grows too big and presses on the urethra, causing difficulty urinating or incomplete urination. A clinical study showed that nettle, combined with saw palmetto, improved BPH symptoms and urination just as much as finasteride, a common BPH medication.
Another study suggests that nettle improved urination for people with BPH, compared with a placebo. Further research is needed to understand how nettle tea might help with BHP.
Is nettle tea good for the liver?
Nettle is known to be an excellent liver tonic. Herbalists have used it to promote liver cleanse and purification of the blood.
Can nettle help with kidney health?
Nettle has been used for centuries as a diuretic that helps remove uric acid, promote urination and help reduce inflammation.
Is nettle good for the skin?
Nettle has been traditionally used to treat itchy skin rashes and inflammation.
Does nettle make you lose weight?
Nettle tea is a diuretic, so the body does lose water weight.  It is also known to help with sugar metabolism, which prevents gaining weight.
Any Contraindications?
Nettle is considered safe if taken in recommended doses; usually, 1g tea leaves three times per day. It may cause mild side effects, including stomach upset, sweating, diarrhoea, and possibly a rash if used topically.
Nettle is known to help reduce high blood pressure, decrease sugar levels, and is a mild diuretic. If you are on medication for any of these conditions, consult your practitioner before drinking nettle tea.  
Consult your doctor before drinking nettle tea if you are pregnant.
Teas With Nettle
Nettle is an excellent healing plant with lots of nutritional properties. We have added nettle to some tea formulas to enhance its anti-inflammatory, diuretic, calming and cooling properties.  
Radiant is formulated with wonderful cleansing and skin healing herbs used for centuries by herbalists to help with conditions related to the skin and liver. Nettle makes a remarkable contribution to this blend of botanical herbs, and collectively they are considered to help with blood purification liver and kidney support. The infusion offers a floral bouquet to the cup with delicate herbaceous notes.
Digest and Energise is formulated using nettle and other organic botanical herbal ingredients to help with digestion and create natural energy from within the body.  The blend uses scientific evidence and supplements dosage format. The tea offers a deliciously minty lemon and a spicy ginger finish to the cup.
Cleanse is the ultimate purification tea. Its ingredients, such as nettle, lavender, rose, red clover, milk thistle, hibiscus, etc., are known for their highly-valued nutrition and anti-inflammatory, detoxifying, and eliminatory organ support properties. A cup of Cleanse offers a delicate floral infusion with hints of lavender and herbaceous notes.
Disclaimer: This website contains general information about the traditional use of herbal teas.  The information is not advice, and should not be treated as such.  If you have any specific questions about any medical matter you should consult your doctor or other professional healthcare providers.